Subscription
| | |
| --- | --- |
| | Cadmus is a journal for fresh thinking and new perspectives that integrate knowledge from all fields of science, art and humanities to address real-life issues, inform policy and decision-making, and enhance our collective response to the challenges and opportunities facing the world today. |
SUBSCRIPTION TO PRINT VERSION
If you would like to receive printed copies of Cadmus, the cost of subscription is 25 Euros or 32 USD per year including postage. Please fill out the form below and click on Submit. You will be re-directed to the payment page automatically.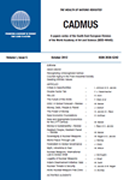 Cadmus is a journal for fresh thinking and new perspectives that integrate knowledge from all fields of science, art and humanities to address real-life issues, inform policy and decision-making, and enhance our collective response to the challenges and opportunities facing the world today.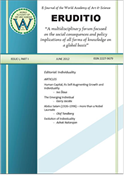 Eruditio, the journal of the World Academy of Art & Science, complements and enhances the Academy's focus on global perspectives in the generation of knowledge from all fields of legitimate inquiry. It also mirrors the Academy's specific focus and mandate which is to consider the social consequences and policy implications of knowledge in the broadest sense.
FREE SUBSCRIPTION TO E-VERSION